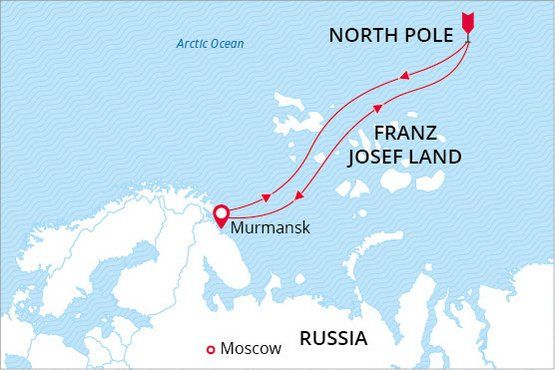 North Pole
Top of the World


Itinerary
Rates Include:
1 night pre-cruise hotel accommodation in Murmansk, Russia, with breakfast;
Transfer from airport to the hotel in Murmansk 1 day prior to departure;
Transfer from hotel to the port in Murmansk on embarkation day;
Transfer from the port to the airport or central location in Murmansk upon disembarkation;
Shipboard accommodation with housekeeping;
Shipboard breakfasts, lunches and dinners;
Coffee, tea and cocoa available around the clock;
All shore excursions and activities throughout the voyage by helicopter;
All shore excursions and activities throughout the voyage by zodiacs;
Shore landings included in daily program;
Program of lectures and informal discussions by experienced Expedition Team and guest lecturers;
Professional Expedition Leadership;
Branded Poseidon Expeditions parka;
Rubber boots for shore landings for the time of the cruise;
Hair dryer and bathrobes in each cabin;
Informative pre-departure materials;
Digital Voyage Log;
All miscellaneous service taxes and port charges throughout the program;
All shipboard luggage handling;
Personalized medical insurance covering the risks of evacuation and repatriation. Coverage: 100,000 EUR. Duration: cruise days only. This is only for passengers under 85 years old.
Rates Do Not Include:
Airfare to and from your hometown to Murmansk;
Helicopter flying time in excess of that offered for the group;
Passport and visa expenses (if required); a Russian visa is required for the trip. The visa must be obtained by the customer and is at his or her expense. Please, contact your local Russian Consulate to learn more about the procedure for obtaining a Visa.
State arrival and departure taxes (if levied);
Meals ashore and supplements in respect of single hotel accommodation (if required);
Excess luggage charges on international and local flights;
Telecommunication services; laundry, bar and beverage charges aboard the vessel;
Luggage, cancellation insurance (strongly recommended);
Tips for stewards and other service personnel aboard (at your discretion).
Important:
Itinerary, landings and all other activities during the cruise depend strongly on ice and weather conditions and are subject to the decisions of the Expedition Leader and the Captain of the vessel. Encounters with any mentioned wildlife cannot be guaranteed.
Adventure options
Free option
The Polar Regions are perhaps the most photogenic on earth, with countless beautiful scenes presenting themselves every day. Endless expanses of ice, beaches crowded with seals or penguins, sunsets over unbroken horizons, starlit skies, and even the majestic northern lights – they all present fantastic photographic opportunities – and in order to make sure that you come home with some spectacular images we offer you the chance to learn and practice your photography alongside an experienced professional.
Our expert Photographer will be on hand to answer your questions and give advice, both in the form of on-board lectures and workshops on shore. Explore the key elements of photography in a fun and relaxed setting, with plenty of opportunities for questions and feedback. Learn how to see light in a new way and experiment with the techniques of composition and framing.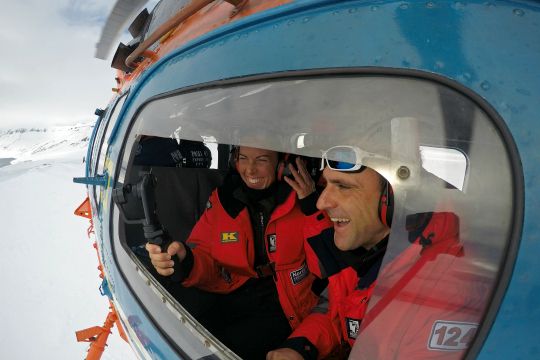 Free option
A helicopter aboard the 50 Years of Victory in our North Pole cruises lets our passengers be more than just spectators in this intrepid mission.
Time, weather and/or ice conditions permitting, you will experience breathtaking helicopter rides over the icebreaker as it plows its way through the ice. Just imagine how amazing photo ops this adventure provides!
The helicopter is also used to land on wild Franz Josef Land islands where we cannot use Zodiacs. So our North Pole passengers are never far from the action.
The helicopter landings and rides during the North Pole cruise are included.