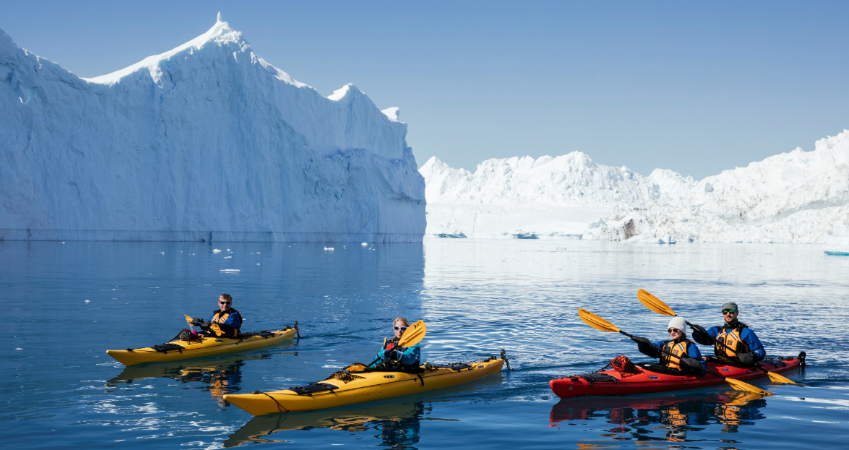 Exploring the polar regions can certainly be a great adventure, but how adventurous can it get? Polar kayaking and camping are a great chance to bring your expedition cruising experience to a new level!
Join our kayak master and expedition leader Ida Olsson for a chat about these exhilarating activities. Ida is a wilderness guide from Sweden now living in Svalbard, and is one of the few in the world who has skied to the North Pole. This is a recording of the webinar from June 11, 2020. Enjoy watching!
0:59
Kate and Ida from Poseidon Expeditions make introductions
3:30
About polar expedition cruising with Poseidon Expeditions aboard m/v Sea Spirit
5:19
Ida talks about her career in the polar regions and how she became a kayak master & expedition leader
8:09
Ida talks about the Women's Euro-Arabian North Pole Expedition of 2018 and about living in Svalbard
10:28
Kate talks about polar cruise activities: Zodiac cruising, hiking, polar plunge, wildlife watching, photography
12:14
Ida talks about the Sea Kayak Club, how many members can join in the Arctic & Antarctica
13:30
When do we go kayaking in a polar expedition cruise?
14:59
How do the kayakers start paddling - from land or from the Zodiac?
15:57
Do you have to choose between polar kayaking and landings?
18:13
The difference between kayaking in the Arctic & Antarctica
23:40
What you need to join the Sea Kayak Club?
26:32
Safety while kayaking in the polar region & do you need to perform the Eskimo roll
30:12
Kayaking with wildlife in the Arctic & Antarctica
34:52
Camping in Antarctica
38:21
Why don't we use tents and use bivi bags while camping in Antarctica instead
40:37
Why camp in Antarctica with Poseidon Expeditions?
42:30
What about facilities while camping in Antarctica?
44:22
Gear needed for camping in Antarctica
46:55
Gear needed for polar kayaking
52:18
Questions and answers about polar kayaking and camping