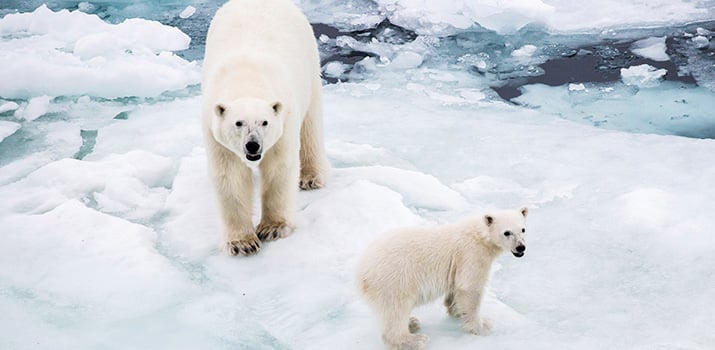 A quick browse of the internet brings plenty of information about the king of the Arctic region – Ursus maritimus – commonly known as the polar bear or ice bear. But what are the thoughts and anecdotes of someone who's worked in polar bear territory for more than a decade? What can she tell us that you won't find in Wikipedia?

Meet Anja Erdmann, one of Poseidon's expedition leaders who can tell us plenty of stories about polar bear encounters. Growing up in Werder/Havel, in the eastern zone of Germany near Berlin prior to the fall of the Iron Curtain, she adopted the Arctic as her second home as a young adult, one she would quickly grow to love. We had a chance to catch up with her shortly before she was
heading to Antarctica
, to finish the current season as expedition leader of the
114-passenger Sea Spirit
before the ship makes its way north to begin the
2018 Arctic season in late May
.

Never underestimate a polar bear

"A few years ago, we took guests ashore near the glacier in Recherchefjorden, on the south side of Bellsund, Spitsbergen. We were walking over hilly terrain with large rocks scattered here and there. Despite our vigilance, one of the 'rocks' started to move – a bear waking up from a nap. It wasn't really that close – but too close for my liking. When this happens, my training kicks in, and I instructed the hikers to immediately move together into a tight group and walk steadily in the opposite direction, keeping the rifle handler between them and the bear. Fortunately, no shots from the rifle or even flares were necessary, but it was another lesson that polar bears can sometimes appear when least expected. In a situation like this, I'm an expert at directing a retreat."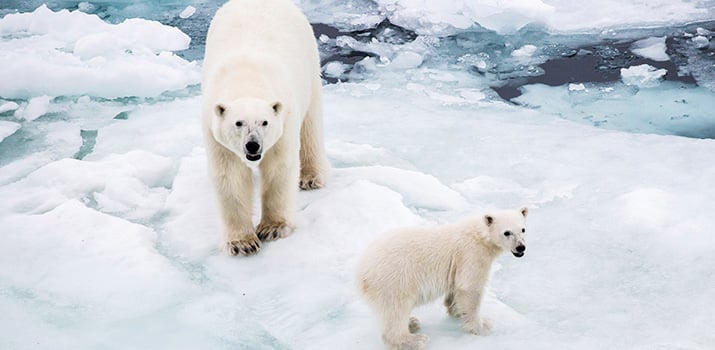 On the other hand…
"Polar bears can be ferocious hunters, but there are times when they live up to the cuddly image that we like to bestow on them. What comes to mind is a scene as memorable today as when it happened years ago. We were in northwest Greenland and had the privilege of observing a mother bear with not one, but two small cubs clinging to her back as she confidently swam in the frigid waters. Someone captured the moment in a photograph and asked an Inuit artisan in Sisimiut to use it as an inspiration to carve a memento ring. It was something I had to have, so I asked him to make me one as well, which I wear constantly."
The effects of climate change
"Much of what we read about these days is the precarious habitat of polar bears due to changing climate conditions. As a result of this, these marine mammals are led to behaviors and places not normally associated with them in previous years. Two first-hand experiences come to mind.
"In 2015, the Sea Spirit docked in Ny-Ålesund, a year-round scientific community on Kongsfjorden Bay on the island of Spitsbergen. This is one of the few places where expedition ships actually dock in Svalbard, and passengers can wander ashore to the post office, souvenir shop and occasionally encounter some of the scientists from the ten countries that maintain research facilities there.
"Before going ashore, we took a look through binoculars and were surprised to see a polar bear meandering among the buildings, probably looking for food. None of the ship's expedition team had ever seen a bear in Ny-Ålesund. Fortunately, none of the researchers were out and about, and when we radioed ashore to alert them, they at first didn't want to believe us. It was really unusual."
"Another time, we took the Zodiacs ashore in Ittoqqortoormiit, a small Inuit community in northeast Greenland. We didn't carry rifles ashore because the village provides visitors and local children with an armed local guard, in case a polar bear appears.
"The guard told us a bear had been sighted earlier at the trash dump, but that he had shot it. Unfortunately, bears resort to such a food source when their normal prey – seals found on the ice – isn't readily available. They're very opportunistic in this way.
We proceeded to wander around, and about ten minutes later I was startled to see that the dead bear in the distance was hardly dead at all. Lucky for us, he was too busy rummaging through the trash pile to bother with us. When I asked the guard about his misinformation, he told me that he thought this would make us more comfortable. This is an example of Greenlandic thinking – telling us what he thinks we want to hear – but that's another story."
The important thing to remember…
"Polar bears are very curious. And, they're not afraid of anything."