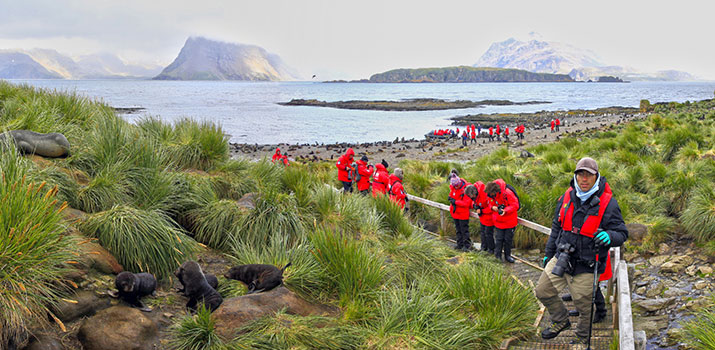 What to know before going to the Falklands
The Falkland Islands are an overseas territory of the United Kingdom consisting of more than 700 sparsely populated islands in the South Atlantic Ocean. Many people will recall the archipelago, located 500 km off the coast of Patagonia, was a war zone during the 1982 Falklands War between Argentina and the United Kingdom. A day in the capital, Stanley, will certainly satisfy history buffs interested in this tragic conflict, and much else besides. But a visitor to the Falklands should not forget these remote, windswept islands are also one of the world's premier wildlife-viewing destinations, featuring huge populations of seals, penguins and albatross. Here are some things to consider when planning your Falkland Islands vacation.
How to Get There
Stanley—located on East Falkland, one of the two main islands in the group—is served by the international airport at nearby Mount Pleasant (MPN). There is a range of accommodation options and tourist attractions in Stanley. However, the best natural attractions in the Falkland Islands are found in "camp", the word used by Falklanders (sometimes nicknamed "Kelpers") when referring to the rural landscape and outlying islands. Many of the best penguin and albatross colonies are located on smaller islands in the western part of the archipelago. The most convenient and comfortable way to reach these places is by small cruise ship. Poseidon Expeditions offers Antarctic expedition cruises with itineraries that include the Falklands as well as South Georgia, another world-class nature destination.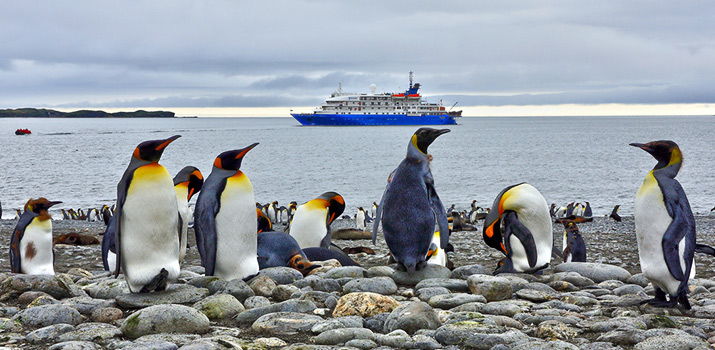 When to Go
Poseidon Expeditions offers cruises to the Falkland Islands in the early, mid and late summer months, all of which are great for wildlife viewing. Early summer (October and November) in the Falklands is the egg-laying season for seabirds, including five species of penguin and 80% of the world's population of black-browed albatross. This is also the best time to see elephant seals giving birth, nursing their young and mating. In January—the height of summer in the Falklands—penguin chicks are forming crèches, albatross are guarding their downy brood, elephant seals are molting and sea lion pups are abundant on the beaches. In late summer (February and March), penguin chicks are beginning to fledge and sea lion pups continue to suckle. King penguins have a breeding cycle of more than one year, so adults and chicks of all ages can be seen throughout the season.
What to Bring
Whenever you go to the Falkland Islands, you can expect windy conditions and changeable weather. Summer high temperatures range from 9°C to 13°C. Warm, waterproof, breathable gear is a must. Poseidon Expeditions provides wellington-style waterproof boots but you should bring sturdy hiking shoes for walking through hilly terrain to seabird colonies. The Falklands are affected by the Antarctic ozone hole, so it is important to wear sunscreen even on cloudy days. Binoculars and a good camera will allow you to make the most of incredible wildlife viewing opportunities. Or, if you are artistically inclined, you could certainly make use of a sketchbook. Most importantly, bring your love of nature and sense of adventure!