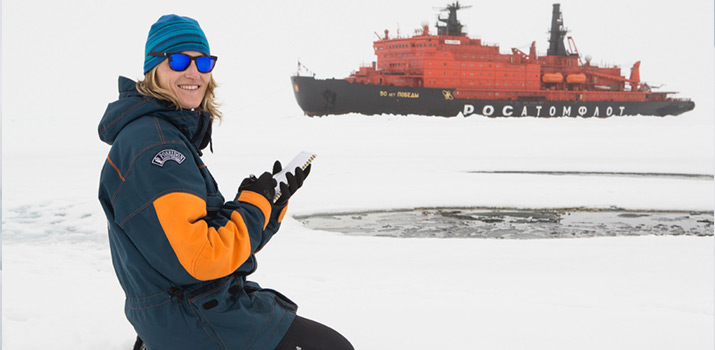 Part Two – Observing the Atmosphere and Melt Ponds in the High LatitudesGuest blog post by Poseidon expedition team members Lauren Farmer and Alex Cowen.
(Note:
in our last blog post,
we covered how we enlist the assistance of our passengers to help measure and observe sea ice and meteorology during our voyages to the North Pole.)
In addition to observing the sea ice, we have been working together with NASA to record data about the atmosphere, including the extent of cloud cover, cloud type, relative humidity and temperature. This data is inputted into NASA's
GLOBE Observer
App, which is free and available to anyone interested in observing clouds, anywhere in the world.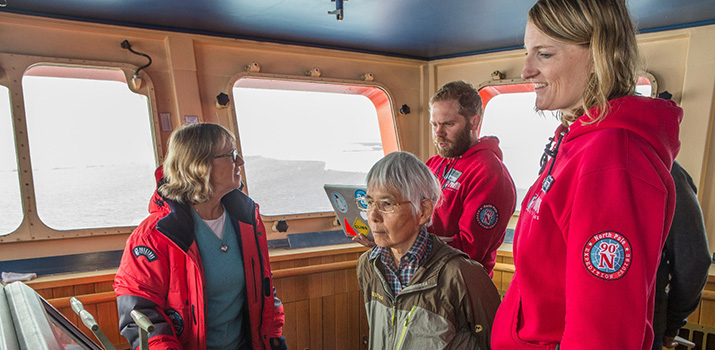 (Annette
Bombosch, right, and Alex Cowan, background, work with enthusiastic guests to make sea ice observations from the bridge of 50 let Pobedy.)
These observations are timed to coincide with satellite overpasses which capture high-resolution imagery of cloud cover from above, and together with our record taken from sea level, provide a more comprehensive understanding of the makeup of clouds at a particular time.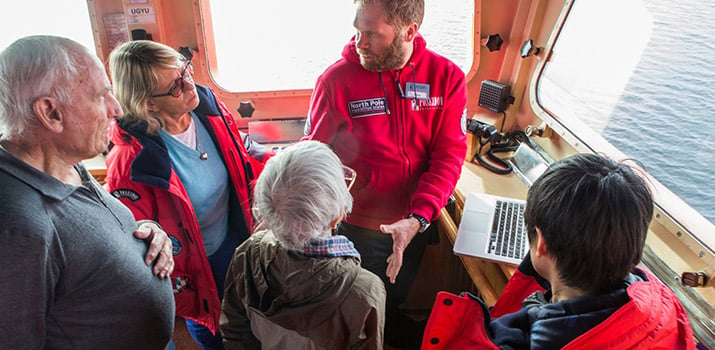 (Alex Cowan discusses thickness of the ice before inputting the collected data into the Arctic Shipborne Sea Ice Standardization Tool.)
By performing our sea ice observations at the same time as cloud observations, we provide valuable data that can help us understand the links between sea ice and cloud cover in this historically under-observed area, and the implications these links have for climate change.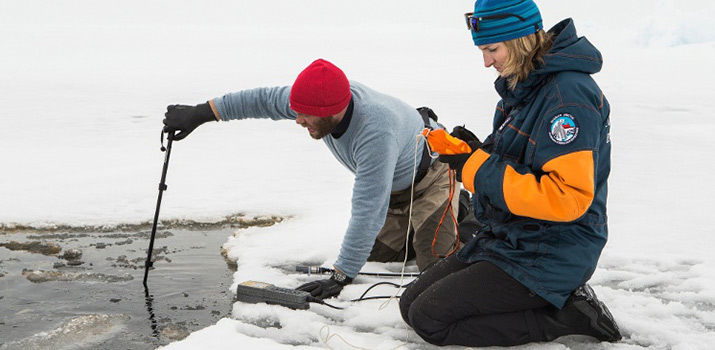 (Alex Cowan captures video of inside a melt pond at the North Pole as Annette Bombosch calibrates a Castaway device, used for recording water temperature at various depths.)
There are many activities to fill our exciting day at the North Pole,
including a hike, a BBQ and a Polar Plunge!
However, the citizen science team takes advantage of being on the ice and gets their hands wet recording salinity and depth profiles of melt ponds.
A key part of our North Pole citizen science program is the active participation of our guests as data collectors, and we are thrilled when many choose to get involved. In addition to enjoying the trip of a lifetime to the North Pole, these guests have the chance to contribute to important and exciting research in an area very few are fortunate to see.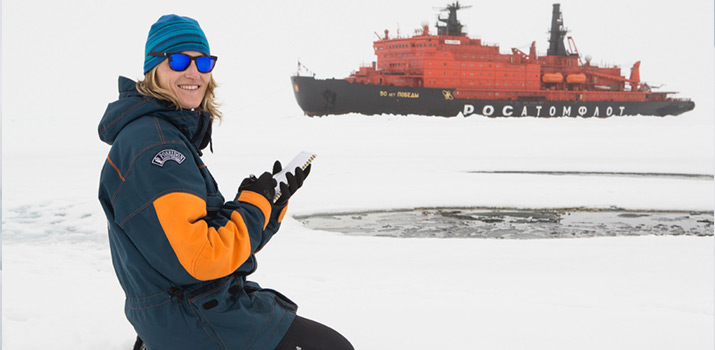 (Annette Bombosch records characteristics of a bottomless melt pond at the North Pole, with icebreaker 50 let Pobedyin the background.)

If you can join us aboard 50 let Pobedy in 2018, we hope your curiosity and interest in the polar environment lead you to become a citizen scientist!
Do you have something to add about a citizen science project or this story, please do so in the comments!