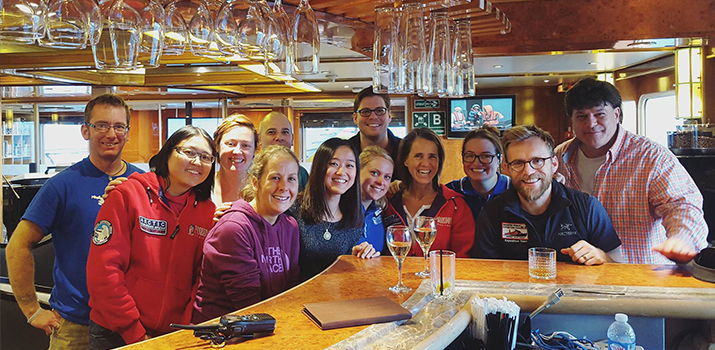 Although I don't normally write blogs in the first-person narrative, traveling aboard the Sea Spirit on an Arctic cruise for the first time has become a personal adventure that I wanted to share.
My normal role with Poseidon is a desk-bound digital marketing director, but I was fortunate to be sent on an expedition cruise to western Greenland aboard our 114-passenger expedition vessel for nine days. For me, however, the experience started well before the official embarkation date of the cruise itself, May 22 in Nuuk, Greenland. A little background…
Poseidon Expeditions hired an architectural photographer to digitally capture the Sea Spirit's newly renovated suites for our website, brochures, and to share with our travel partners. These are spacious accommodations, beautifully appointed, and we were anxious to show them to the world. I was asked to fly to Reykjavik, Iceland one week prior to assist the photographer in any way I could while the ship positioned north to Nuuk, a five-day journey without passengers. Frankly, I wasn't crazy about the idea of being on an empty ship, cut off from the world, while we traveled the ocean blue well above the Arctic Circle. However, I figured that opportunities like this don't come along every day, so the excitement started to build.
After flying to Reykjavik, and getting to the ship at 5:00 a.m. – yeah, I was tired – we were immediately greeted by a friendly deck hand who took our luggage and was very welcoming. As I was traveling with my boss who had been on the ship several times, I was amazed to see several members from the staff welcome him back aboard with hugs and affection. A truly amazing first impression! We had some coffee in the lounge while we waited to be brought up to our individual suites.
First off, the cabins and public areas aboard the ship are beautiful. I had seen pictures, of course, but they did not do it justice. (Hence, the reason for the professional photographer.)
It was soon time to set sail to Nuuk to meet the passengers embarking our first Greenland expedition cruise of the season. On board were two basic groups of Poseidon staff: the expedition team and the ship's crew. As I said, my reason for being aboard was to assist the photographer. But it was hardly a full-time job, so I had time to roam and really get to know the ship, and to spend time with my Poseidon shipside colleagues.
You see, I had certain preconceived notions that there would be no one around; I would do some work with the photographer, and end up eating in the crew mess hall like we've all seen in movies. I mean, why open the dining room just for me and the photographer?
My expectations were way off.
During my first full day, I started meeting each of the dozen or so expedition staff as well as a few members of the crew. As far as I was concerned, I wasn't a guest, and was there to work. But I was amazed at how cordial everyone was. They always had smiles, appeared extremely happy to be there and, most importantly, introduced themselves and talked to me like I was the ship owner. All I could think was, "Wow, if I'm being treated this way, what sort of welcome is in store for the paying customers?"
Lunch was served a few hours after we left Reykjavik. To my surprise, the dining room was not only open but the waiters were in full dress as if the dining room were filled with guests. The expedition team, along with the photographer and me, occupied just two tables. We were handed menus, napkins were placed in our laps –I could go on with the five-star treatment. I was totally amazed. I mean, who is going to lay out my napkin when I get home?
The food was wonderful as three waiters literally waited on about twelve people like we were in a Michelin-star restaurant.
Most of the expedition team knew each other from previous voyages, so the table talk began immediately. There was lots of laughter and camaraderie. As I tend not to be a shy person, I began to ask some questions about what they did, where they were from, and so on. I was the only American, with the rest of the group coming from countries such as the United Kingdom, Australia, Spain, Sweden, Taiwan, and Germany. Everyone spoke English, and humbly told me a little bit of what they did as expedition team members.
These people have some serious game! I had previously read about a couple of them online, but hadn't paid too much attention to their bios. Many have their master's degrees and even PhDs. There are biologists, historians, a former pre-Olympian in sailing – you get the picture. They're the real deal, and I'm not even talking about their outgoing, eager-to-engage and personable natures. Again, my preconceived notion was of a bunch of outdoorsy types driving Zodiacs around or giving lectures during the cruise. In reality, they know their stuff and are an expert team in every sense of the word. A family.
During daylight hours – which are long above the Arctic Circle – they moved! They all had tasks to complete for the upcoming trip and kickoff to the 2017 Arctic season. And while they all had their individual responsibilities, they were quick to help their fellow teammates when asked.
Even without a complement of guests, this ship was alive and the energy was exciting. All day they laughed as they worked, and I'm not just speaking of the expedition staff. The ship's crew, responsible for the care and maintenance of the entire ship, were also in great spirits during this leg to Nuuk. I have to admit, there was a small part of me that wanted this week to continue instead of picking up our guests in Greenland. But, that's not much of a business plan.
It's been a wonderful experience, getting to know the ship and our great crew and staff. My marketing efforts in describing the advantages of our expedition cruises will now be much better informed. It was rewarding to watch these amazing people work hard and to have fun doing it, all for the love of expedition cruising in the polar realm and the joy of sharing their knowledge and hospitality with guests from all over the world.