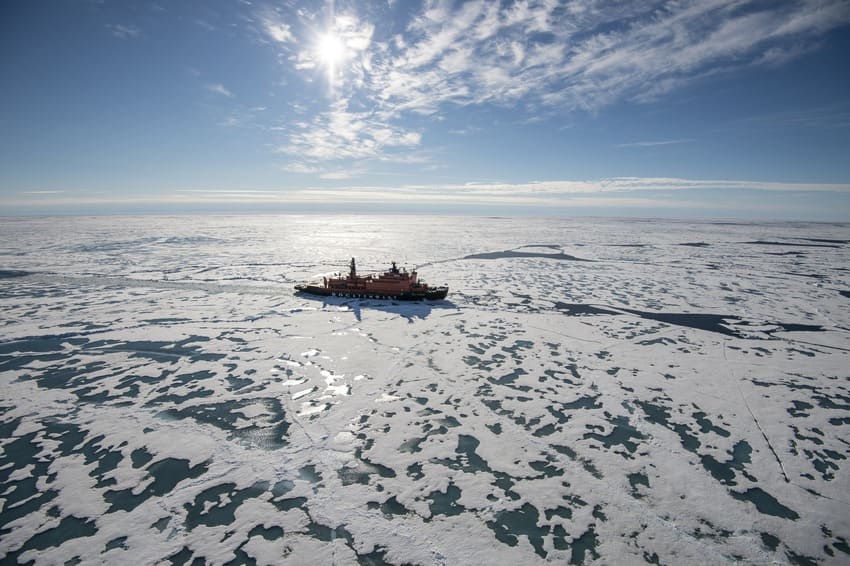 Poseidon Expeditions offers
North Pole expedition cruises
aboard a state-of-the-art icebreaker. The Russian name of the vessel "50 Let Pobedy" means "
50 Years of Victory
". Powered by two nuclear reactors generating 75000 horsepower and capable of crushing a clear path through multi-year ice up to three meters thick, she is the largest and most powerful icebreaker ever built.
Cruising aboard this marvel of engineering is an unforgettable experience in itself. She is a working ship, purpose-built to pilot cargo and research ships through heavy ice. For our passengers provides a friendly, casual atmosphere with unexpected amenities, comfortable accommodation, and a restaurant serving gourmet cuisine. Everyone who comes aboard instantly falls in love with "50 Years of Victory", including our special guest experts.
On this North Pole cruise, we were joined by James Balog, experienced nature photographer and producer of 'Chasing Ice', the award-winning documentary on climate change. He talks about his impressions of the "
50 Years of Victory
" and how his expectations were exceeded by the design, elegance and power of our expedition vessel.
The i/b 50 Years of Victory is the largest and most modern nuclear-powered icebreaker in the world. The spoon-shaped bow of the «Victory» is designed for greater icebreaking ability and makes the ship capable to force its way through 2.5 meters thick ice fields.
We don't have the heart to use she when we talk about i/b 50 Years of Victory — it's not ladylike at all. Elegance doesn't matter when it comes to the right vessel to take you to the top of the world. The most powerful icebreaker ever built generates 75,000 horsepower and crushes multi-year ice layers three meters thick. After a few days aboard, you'll feel her (or him?) sharing power as you together battle your way through the Arctic icecap to 90º north.
I/b 50 Years of Victory is not a tourist ship. Rather, the icebreaker was purpose-built to pilot scientific and cargo ships to hard-to-reach areas of the Arctic and along the Northeast Passage. It is just during the short summer months when adventurers get a once-in-a-lifetime chance to travel aboard this real working icebreaker to the geographic North Pole.