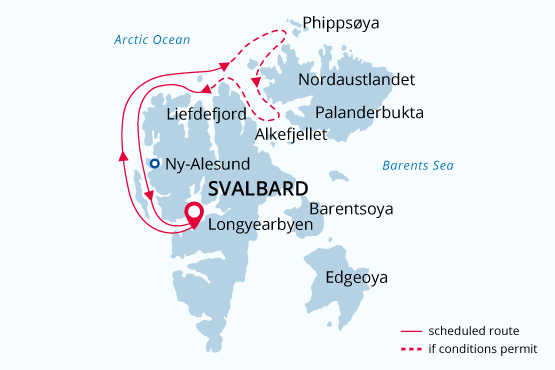 West Spitsbergen & Polar Ice Edge
Arctic Wildlife Safari
Longyearbyen (Spitsbergen)
Longyearbyen (Spitsbergen)


Itinerary
Rates Include:
1 pre-voyage hotel night;
Group transfer from the airport to the hotel on a day prior to departure;
Shipboard accommodation;
Group transfer to the ship on day of embarkation;
All meals on board throughout the voyage;
Tea and coffee station 24 hours daily;
All scheduled landings/excursions (subject to weather and ice conditions);
Leadership throughout the voyage by our experienced Expedition Leader & Expedition Team;
Branded Poseidon Expeditions parka;
Rubber boots for shore landings for the time of the cruise;
Welcome and Farewell cocktails;
All port fees;
Group transfer to airport or central location upon disembarkation;
Pre-departure materials;
Digital Voyage Log;
Rates Do Not Include:
Airfare;
Visa and passport fees (if applicable);
Luggage and trip cancellation insurance;
Soft drinks and alcoholic beverages other than those for special events and celebrations;
Personal expenses such as laundry and telecommunication charges;
Emergency Evacuation Insurance to a minimum benefit of USD 150,000;
Staff gratuities.
Important:
Itinerary, landings and all other activities during the cruise depend strongly on ice and weather conditions and are subject to the decisions of the Expedition Leader and the Captain of the vessel. Encounters with any mentioned wildlife cannot be guaranteed.
Special guest
Felicity Aston
British Polar Explorer
Felicity Aston is a British Polar Explorer living in Reykjavik, Iceland. In 2012, she became the first person in the world to ski alone across Antarctica, using just muscle power (no kites or machines). The journey of 1744 km took her 59 days and gave her a place in the book of Guinness World Records. More than a decade previously, her first journey to Antarctica was as a meteorologist with the British Antarctic Survey to monitor climate and ozone. She went on to complete numerous journeys in Antarctica and other cold regions of the world including Greenland and Siberia.
Felicity regularly speaks to a variety of audiences around the world about her expedition experiences as well as more generally about Polar Science, Antarctica and Meteorology, and has written three books about the polar regions which have been translated into several languages. Felicity was appointed MBE in 2015 for services to Polar Exploration and in the same year was awarded the Queen's Polar Medal – one of only 10 women ever to have been recognized in this way.
Adventure options
Kayaking fee $655 - A$885 - £505 - €625
Sea Kayak Club is typically offered on voyages that include High Arctic destinations such as Greenland, Svalbard (Spitsbergen), Franz Josef Land, or a combination of these thrilling places. Experience calving glaciers in Svalbard, cathedral-like icebergs in Greenland, or labyrinthine expanses of sea ice in the Arctic Ocean, all from our sturdy and stealthy sea kayaks. Join us for an unscripted kayaking adventure as we explore rugged coastlines and remote waters that very few people have ever paddled.
Free option
The Polar Regions are perhaps the most photogenic on earth, with countless beautiful scenes presenting themselves every day. Endless expanses of ice, beaches crowded with seals or penguins, sunsets over unbroken horizons, starlit skies, and even the majestic northern lights – they all present fantastic photographic opportunities – and in order to make sure that you come home with some spectacular images we offer you the chance to learn and practice your photography alongside an experienced professional.
Our expert Photographer will be on hand to answer your questions and give advice, both in the form of on-board lectures and workshops on shore. Explore the key elements of photography in a fun and relaxed setting, with plenty of opportunities for questions and feedback. Learn how to see light in a new way and experiment with the techniques of composition and framing.