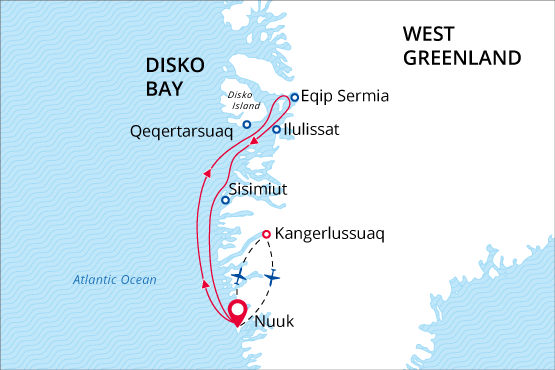 West Greenland and Disko Bay
Icebergs, Whales & Inuit Heritage


Itinerary
Day 1. Air flight from Kangerlussuaq, Greenland to Nuuk, Greenland; Embarkation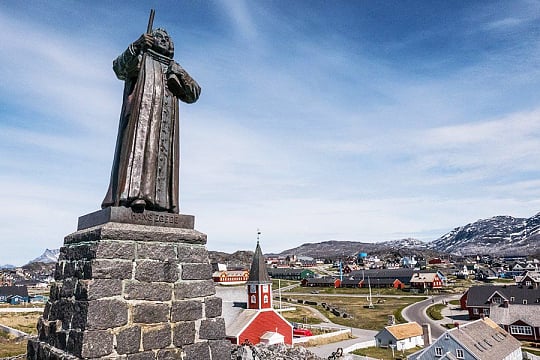 Your individual arrival to Kangerlussuaq is followed by flight to Nuuk (Kangerlussuaq – Nuuk flight is provided by Poseidon Expeditions and included in the price of the voyage).

Our voyage starts in the capital of Greenland – city of Nuuk. It has a population of over 16,000, making it one of the smallest capital cities in the world by population. It is also the world's northernmost capital, located only a few kilometers further north than Reykjavík.

Today we welcome you aboard the luxury expedition ship M/V Sea Spirit. Explore the ship and get comfortable in your home away from home for the extraordinary adventure to come. Savor the anticipation of your Arctic dreams coming true as we slip our moorings and sail along the picturesque fjord.
Day 2-8: Exploration of West Greenland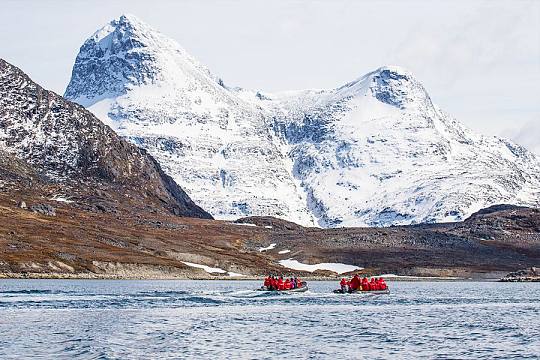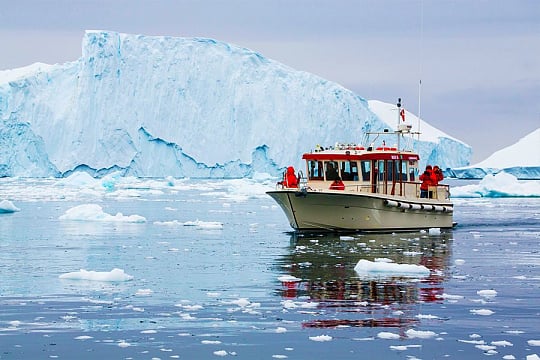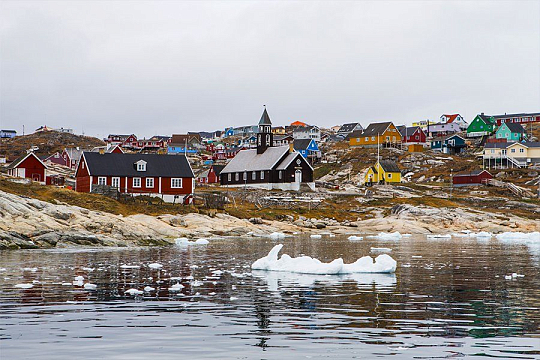 Though settlements abound in this part of Greenland, unpredictable weather and dearth of docking facilities nevertheless make this a real expedition. As such, our route and exploration opportunities along this coast are heavily dependent on the weather and ice conditions we encounter. Our experienced captain and expedition leader decide the itinerary and continually adjust plans as conditions and opportunities warrant. You can be sure that the best possible advantage will be taken of the circumstances presented to us by Nature in this wild and remote region. Possible sites of exploration include:

Sisimiut – The second-largest town in Greenland boasts a youthful, urban vibe. The Sisimiut Museum offers insight into the local culture and a history of human habitation dating back 4,500 years.

Qeqertarsuaq – Located on volcanic Disko Island, the small town of Qeqertarsuaq enjoys views of basaltic mountains and the huge icebergs of Disko Bay. Founded in 1773 as a whaling station, Qeqertarsuaq is one of the oldest towns in Greenland. Cultural attractions include a distinctive octagonal church called the "Lord's Ink Pot". Hiking option in the beautiful surrounding is available in the area.

Eqip Sermia – This active tidewater glacier is situated in a wild and scenic fjord. In the period after the Second World War, this area functioned as a starting point for expeditions onto the ice cap conducted by the French explorer Paul Emile Victor, whose hut still stands today.

Ilulissat – Formerly called Jakobshavn, the town of Ilulissat is best known for unbelievable quantities of icebergs issuing from the nearby Ilulissat Icefjord, into which one of the world's fastest moving and most active glaciers calves 46 cubic kilometers of ice annually. The breathtaking ice formations are best appreciated from a boat (a boat trip along the fjord is included in the price of the voyage). Attractions in town include the Inuit Art Museum, which contains a large collection of paintings by Greenlandic, Faroese, and Danish artists.
Day 9: Disembarkation in Nuuk, Greenland; air flight to Kangerlussuaq, Greenland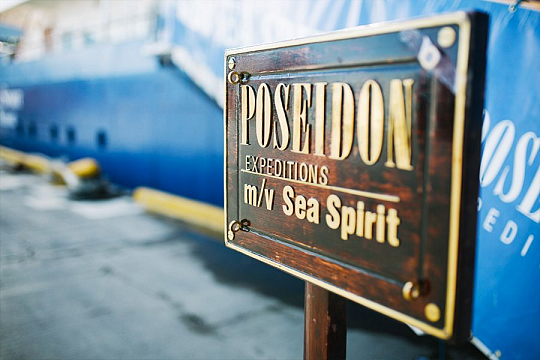 After breakfast we say farewell in Nuuk. Your disembarkation is followed by flight to Kangerlussuaq for your further homeward-bound air flight (Nuuk – Kangerlussuaq flight is provided by Poseidon Expeditions and included in the price of the voyage). Kangerlussuaq is the site of Greenland's largest commercial airport.
Rates Include:
Air flight Kangerlussuaq – Nuuk on the first day and Nuuk – Kangerlussuaq on the last day of the cruise;
Group transfer to the ship on day of embarkation;
Shipboard accommodation;
All meals on board throughout the voyage;
Tea and coffee station 24 hours daily;
All scheduled landings/excursions (subject to weather and ice conditions);
Museum entrance fee;
Leadership throughout the voyage by our experienced Expedition Leader & Expedition Team;
Branded Poseidon Expeditions parka;
Rubber boots for shore landings for the time of the cruise;
Welcome and Farewell cocktails;
All port fees;
Group transfer to airport or central location upon disembarkation;
Pre-departure materials;
Digital Voyage Log;
Emergency Evacuation Insurance to a maximum benefit of USD 150,000 per person.
Rates Do Not Include:
Air flights other than included;
Visa and passport fees (if applicable);
Luggage and trip cancellation insurance;
Soft drinks and alcoholic beverages other than those for special events and celebrations;
Personal expenses such as laundry and telecommunication charges;
Staff gratuities.
Important:
Itinerary, landings and all other activities during the cruise depend strongly on ice and weather conditions and are subject to the decisions of the Expedition Leader and the Captain of the vessel. Encounters with any mentioned wildlife cannot be guaranteed.
Special guest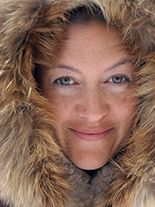 Kari Herbert
Author, Public speaker
Kari is an author, publisher, and public speaker. She started travelling at the age of ten months with her father. Kari's father Sir Wally Herbert was the first man to walk to the North Pole, crossing from Alaska to Spitsbergen in 1969.

Kari was ten months old when Sir Wally Herbert took his family to live with a tribe of Polar Inuit for over two years on a remote island off the coast of Northwest Greenland. At the age of four Kari accompanied her parents on another trip that took them through winter blizzards in a caravan to spend time with the Sami of Lapland. Kari has continued to travel extensively ever since.

Her writings have been published in magazines and newspapers all over the world. She has regularly taken part in many radio programmes including BBC Radio 4, Radio 3 and BBC World Service. She is a popular public speaker, lecturing at venues such as the Royal Geographical Society, the Explorers Club in New York, the National Maritime Museum and the British Library.
Adventure options
Kayaking fee $655 - A$885 - £505 - €625
Sea Kayak Club is typically offered on voyages that include High Arctic destinations such as Greenland, Svalbard (Spitsbergen), Franz Josef Land, or a combination of these thrilling places. Experience calving glaciers in Svalbard, cathedral-like icebergs in Greenland, or labyrinthine expanses of sea ice in the Arctic Ocean, all from our sturdy and stealthy sea kayaks. Join us for an unscripted kayaking adventure as we explore rugged coastlines and remote waters that very few people have ever paddled.
Free option
The Polar Regions are perhaps the most photogenic on earth, with countless beautiful scenes presenting themselves every day. Endless expanses of ice, beaches crowded with seals or penguins, sunsets over unbroken horizons, starlit skies, and even the majestic northern lights – they all present fantastic photographic opportunities – and in order to make sure that you come home with some spectacular images we offer you the chance to learn and practice your photography alongside an experienced professional.
Our expert Photographer will be on hand to answer your questions and give advice, both in the form of on-board lectures and workshops on shore. Explore the key elements of photography in a fun and relaxed setting, with plenty of opportunities for questions and feedback. Learn how to see light in a new way and experiment with the techniques of composition and framing.
Special Offers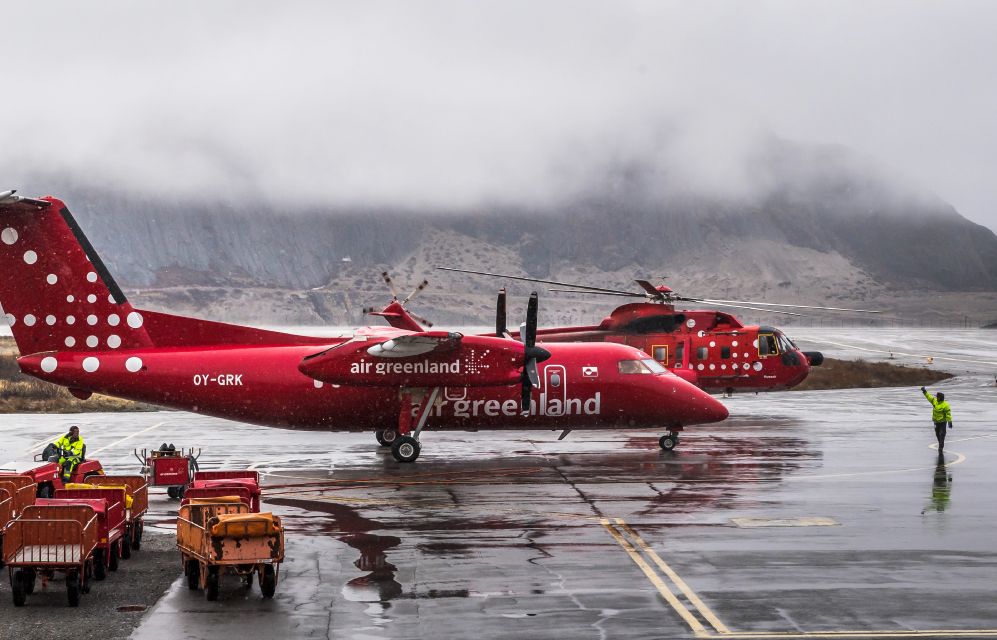 AIR FLIGHTS INCLUDED*
Cruise rates include the following air flights:

May 22 - May 30, 2018 cruise

Air flight from Kangerlussuaq to Nuuk on May 22, 2018

Air flight from Nuuk to Kangerlussuaq on May 30, 2018
---