Lupe Aguirre - Poseidon Representative in Ushuaia, Argentina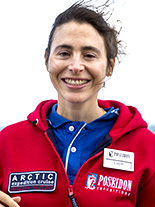 She originates from Mendoza in Argentina. Always having had a great interest in travel, the outdoors and remote regions she moved all the way down to the southernmost tip of South America, to Ushuaia to be closer to her ultimate dream: working in Antarctica. After a few years as Sales Manager for a Duty Free Shop she joined Rumbo Sur, the main local travel company. During five years Lupe welcomed and sent off passengers on their great adventure to the South.
After participating herself in a voyage to Antarctica she immediately fell in love with the immense and pristine landscapes. That was it! She knew where she had to look for her next job. For 3 years now Lupe has accompanied passengers on their trips of a lifetime all the way to Antarctica and the Arctic. Lupe will not only be working on board our vessel but during the Antarctic season she will also be our shore staff based in Ushuaia.