John Suta - Zodiac Master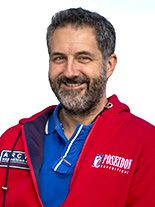 Born and bred in Canada, John (also known as 'Flipper') now calls Königsdorf in Southern Germany home. Back in Canada, he led an inconspicuous life as a self-employed landscaper and mechanic, running a small bike retail shop and taking groups of cyclists to Cuba. All this changed when he won a trip to the Canadian High Arctic – a trip that truly changed his life. Since then he found his true calling in the expedition cruise industry, where he is working as Logistics Manager on trips to the Arctic, the geographic North Pole as well as the Antarctic.

Onboard the Sea Spirit, Flipper is in charge of logistics and Zodiac operations and he can't wait to join you in our excursions as a naturalist guide and Zodiac driver.