Value of IAATO Ship Scheduler
For polar expedition ship operators and their passengers, the busiest time of the year for cruises to Antarctica is November to March. This is the Austral Summer after all, when weather conditions are favorable and the majority of expedition voyages depart Ushuaia, Argentina for the Antarctic Peninsula.
But on a certain Wednesday in late June or early July of each year, the companies that operate Antarctica cruises are working very hard and very quickly. That's the day, agreed in advance, when all of the expedition ship operators input their upcoming season's itineraries into the IAATO Ship Scheduler.
For those of you not familiar with IAATO—the International Association of Antarctica Tour Operators—it is a tourism industry organization that advocates safe and environmentally responsible travel to the Antarctic. If you're planning or perhaps already booked on a trip to the White Continent, you'll find the IAATO website loaded with valuable information. Poseidon Expeditions is proud to be a member of IAATO.
A Hectic Day (or Night)

But, let's get back to the Ship Scheduler and see how it affects the typical Antarctic visitor like you. On the chosen Wednesday morning—at least it's morning at IAATO headquarters in Newport, Rhode Island, USA—Antarctic cruise companies all over the world go online to the IAATO Ship Scheduler and login. It's a hard day's night in Australia, of course, where operators are logging in at 1:00 am.
Wherever they are, they work intensely for four or five hours to enter their desired landing sites for each day their ships will be in Antarctica or South Georgia waters. That's usually two or three sites per day, multiplied by the 20 to 25 expedition ships plying Antarctic waters during the height of the season. Once a site is selected for a given landing time slot—usually 3-4 hours of the day—it is automatically closed to other operators for that particular time period.

It makes for a very hectic few hours of entering data, with each of the ship operators working hard to lock in the landing sites that best suit his or her intended expedition ship schedule.

This Sounds Bureaucratic!

What are the advantages of this Ship Scheduler for Joe and Mary Traveler? While it sounds very regimented or even restrictive on the type of adventure travel that Antarctic visitors are looking for, the system actually benefits everyone. And it provides for a much better wilderness experience for the Antarctic visitor.
First, it eliminates the possibility that two ships will try to land their passengers at the same time at the same place. That would potentially be a big problem, because Antarctic Treaty and IAATO guidelines stipulate that only 100 passengers can be ashore at one landing site at any given time. Think of the IAATO Ship Scheduler as a mechanism that prevents expedition ship traffic jams from happening.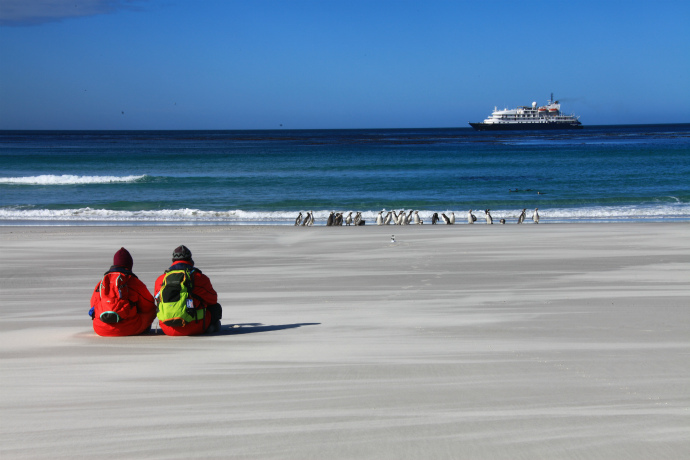 Second, the system helps regulate the number of visitors at a few landing sites that may be a little more fragile or may have unusual restrictions during penguin hatching season (this is rare and infrequent). It also doesn't permit larger Category 2 vessels—those carrying between 201-500 passengers—to schedule visits to the many landing sites limited just to Category 1 vessels, or those carrying between 13 and 200 passengers. (Note: the Sea Explorer and Sea Spirit carry just around 100 guests on each voyage, so this isn't an issue. Poseidon can sel ect fr om dozens and dozens of great sites for each scheduled voyage).

"I'll Trade You This Landing Slot for That Landing Slot"
Third, once the Ship Scheduler data is finalized, it is made available to all the IAATO companies on a detailed spreadsheet. This information, which includes the names of each ship's captain and expedition leader, is invaluable once the ships are in the field. It allows them to contact each other readily, to give up a scheduled landing time slot or possibly trade with another operator due to delays, inclement weather conditions or an unexpected change of schedule.

The data is also provided to the governmental Maritime Rescue Coordination Centers (MRCCs) that are responsible for managing search and rescue activities, should the need arise. It always helps to know wh ere the ships are supposed to be!

Finally, the schedule can also be made available to scientists or workers who might be trying to hitch a ride to a governmental scientific station during the season. IAATO member vessels transport dozens of scientists a year, usually free or at very low rates. In exchange, the scientists often provide a lecture during the voyage about their work in Antarctica.

In the end, what appears at first glance to be an inflexible system turns out to provide many useful advantages for just about everyone. Except perhaps for the poor Australians who have to enter Ship Scheduler data in the wee hours of the morning!